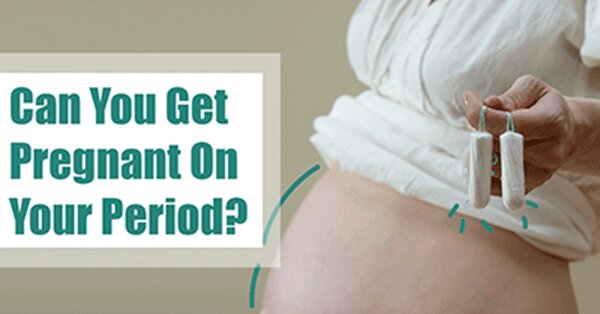 Period sex is generally seen as safe between couples. It is a myth, however, that you cannot conceive during your period. The chances are low, but it depends on a couple of factors, especially the length of your cycle and whether you have sex at the beginning or the end of your period. Read on for more information about the chances of getting pregnant during your period.
Can You Get Pregnant On Your Period?
The simple answer is yes. While women cannot actually get pregnant while they are bleeding, there is a fraction of women who might conceive at the very beginning or at the end of their periods. 
During your period and when you are still bleeding, a woman's fertility level is basically at zero. However, sperm can live inside the body for a number of days and you may be within your fertility window earlier than you think [1].
When do you think the probability of being in the fertile window is highest?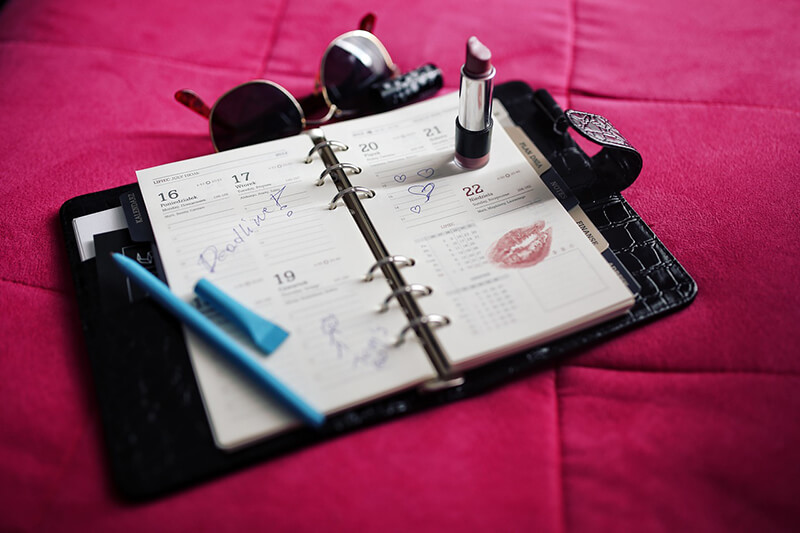 Click on the answer to reveal what studies found
Show hint
fertile window
The 14th day of the menstrual cycle is when the probability of being in the fertile window is highest

How Long Can Sperm Survive in Period Blood?
A man's sperm can live inside the reproductive tract for up to seven days. Therefore if you have unprotected sex right after your period and then ovulate early, you can fall pregnant.
Is It Easier to Get Pregnant While On Your Period?
It is most likely that you will get pregnant if you have sex when you are at your most fertile, which is usually in the middle of your natural cycle, during ovulation. If you have sex right after your period, the risk of getting pregnant is still lower than at other times of your menstrual cycle, but there is a chance that you conceive during the week after.
Chances of Getting Pregnant On Your Period
During the time of menstruation or bleeding, it is not possible for women to conceive. However, there is around a 5% chance of conception at the end of your period, which for most women is after the first five days of her cycle, or five days after her period started [2].
Your Average Menstrual Cycle Length
Women's menstrual cycles vary. The average length is 28 days; however they can range from 24–38 days, depending on if you have a longer or shorter cycle. Because of this, the time of peak fertility and most likely time for conception varies quite a lot. Menstrual cycles are measured from the first day of your last period to the first day of the next one. 
You can learn to predict your ovulation cycle and periods to be aware of your most fertile days. If trying for a baby, most couples are advised to have more sex between days 11–14 for the best chances of conceiving. See our ovulation calculator for more on this. 
The basics of menstrual cycles:

When periods finish, you are in the second phase of the cycle (days 6–14), when the uterus rebuilds its lining to prepare for a fertilized egg.

At around day 14, the ovary releases an egg, and it starts to move down the fallopian tube. This is called ovulation and is the most fertile window because there is a newly released egg. The egg lives for around 24 hours if it is not fertilized during intercourse [3].
The last part of the cycle, from day 25, is the luteal phase [4]. This is when the uterus prepares to shed its lining again for your next period. During the this phase, the chances of pregnancy are low; however, depending on the woman's cycle, there is a small chance she can be fertile in the last five days before her period.
Some women track their cycles regularly, using the fertility awareness method to either avoid or increase their chances of pregnancy. If you do this, you will have a good idea of when your fertility window is.
Whether Or Not You Use Birth Control 
If you're using birth control, your chances of conceiving on your period are extremely low, depending on the contraceptive methods you use.
Verdict: Always Use Birth Control to Be Safe
Now that we know that it's possible to get pregnant during periods, it is time to look into how to be fully safe. Are natural or medical methods the best way? Healthline media tends to promote medical options without considering the adverse effects on women. 
There are side effects to birth control methods; however, to make natural fertility methods effective, you have to be fairly committed, with daily body temperature checks at consistent times, logging, observing cervical mucus, etc. There is always a small chance that you will ovulate earlier, particularly if you don't have a very regular cycle. 
Birth control pills may be more convenient than this, but most women know too well the adverse effects of hormonal treatments.
If you are looking to avoid awful acne and wild mood swings, there are a few non-hormonal birth control methods available, the most common being the copper IUD.
Condoms are often left aside by couples for period sex; however, they are a good option for all times of the month. You can read specific information about the effectiveness of condoms during period here. Remember that condoms are also the only effective method for protecting against STIs.
Which birth control method do you think is most likely to fail?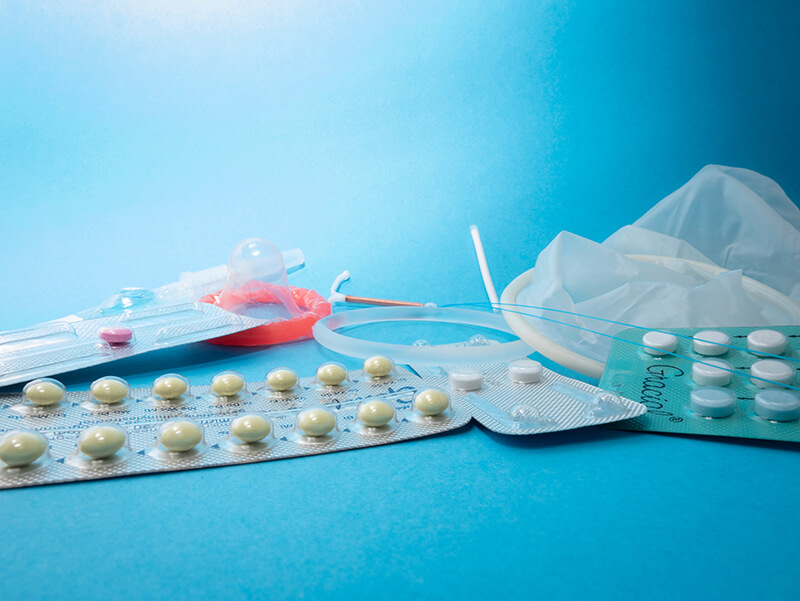 Click your answer to reveal the results
Show hint
birth control method
Fertility awareness-based methods have the highest failure rate

FAQ 
How Likely Is It to Get Pregnant On Your Period?
You are not very likely to get pregnant on your period, but it is possible, especially if you have sex right at the end of your period.
Can You Get Pregnant On the First Day of Your Period?
The chances are extremely low, as you are in a different phase of your cycle and not close to your fertile window.
Can You Get Pregnant On the Last Day of Your Period?
Yes, possibly. Sperm can live inside your body for a week, which can take you into your fertile window, meaning ovulation might occur during this time.
Can Sperm Survive in Menstrual Blood?
Yes, sperm can live in the menstrual blood or inside the body for up to a week.
Are You Most Fertile During Your Period?
No, your most fertile time is during your fertility window, which is when you ovulate. For the average woman, this would be between days 11–14 of her monthly cycle.
Conclusion 
The chances of you getting pregnant when you are on your period are slim; however, if you don't want to get pregnant, it would be better not to count on this as a way to avoid pregnancy.
Getting to know your menstrual cycle can be a good way for women to connect with their bodies and their level of reproductive health. However, talking to a doctor for a reliable contraceptive is the best way to avoid pregnancy. 
If you think that you could be pregnant, always use pregnancy tests to catch this early on. You may feel unsure about what birth control method is best for you and your health, or want to read more about the availability of each. You can also get more information on where to get birth control.
References
Sakkas, D., Ramalingam, M., Garrido, N., & Barratt, C. L. (2015). Sperm selection in natural conception: what can we learn from Mother Nature to improve assisted reproduction outcomes?. Human reproduction update, 21(6), 711–726. https://doi.org/10.1093/humupd/dmv042

Johnson, Sarah, et al. "Can Apps and Calendar Methods Predict Ovulation with Accuracy?"

Current Medical Research and Opinion

, vol. 34, no. 9, 2018, pp. 1587–1594., doi:10.1080/03007995.2018.1475348. 

Oliver R, Basit H. Embryology, Fertilization. [Updated 2021 May 8]. In: StatPearls [Internet]. Treasure Island (FL): StatPearls Publishing; 2021 Jan-. Available from: https://www.ncbi.nlm.nih.gov/books/NBK542186/

Reed BG, Carr BR. The Normal Menstrual Cycle and the Control of Ovulation. [Updated 2018 Aug 5]. In: Feingold KR, Anawalt B, Boyce A, et al., editors. Endotext [Internet]. South Dartmouth (MA): MDText.com, Inc.; 2000-. Available from: https://www.ncbi.nlm.nih.gov/books/NBK279054/