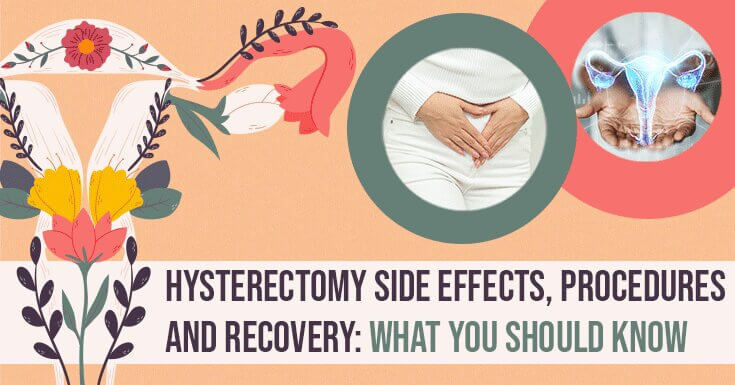 Hysterectomy is one of the most common operations performed on women, with around 600,000 American women going through the procedure each year.  
A hysterectomy can be a life-saving operation in critical cases. However, it is essential for you to make an informed decision as the procedure is associated with very severe hormonal changes.
Here, we will discuss the procedural details of a hysterectomy and answer the common questions about the procedure side effects.
What Is a Hysterectomy?
The primary purpose of the procedure is to remove a woman's uterus, often due to heavy periods caused by fibroids. The uterus is a muscular and hollow organ located in the pelvis where the egg is fertilized and the human embryo develops during pregnancy.
The type of hysterectomy performed depends on the condition of the patient. In a total hysterectomy, both ovaries and fallopian tubes are removed with the uterus. After a hysterectomy, the patient will no longer have menstrual periods and will be unable to get pregnant.
Do you think the rate of hysterectomies in the US are on the rise or decline?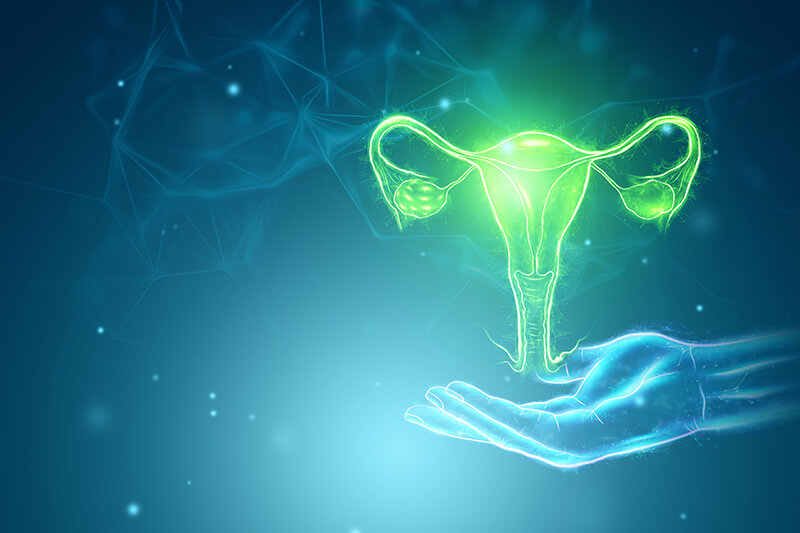 Click on ANY option to reveal the answer
Show hint
hysterectomies
Hysterectomies are actually on the decline as the health industry is finding ways to deal with most underlying conditions non-surgically.

What Is the Most Common Reason for a Hysterectomy?
The most common reason for a hysterectomy is heavy vaginal bleeding resulting from fibroids and chronic pain. Medications are unable to control these symptoms. 
Reasons for a hysterectomy include:
To remove

large benign fibroids in the uterus which can cause heavy bleeding, anemia, chronic pelvic pain, or bladder pressure [1].
Cancer in the reproductive organs or precancerous conditions in the cervix or endometrium [1].

Advanced stages of pelvic inflammatory disease (PID).

When the uterus drops through the cervix, in a condition known as

uterine prolapse [2].

Pain or bleeding due to

endometriosis,

which causes the uterine lining to grow outside the uterus cavity.

Adenomyosis, where the inner lining of the uterus grows into the uterine muscles [3].
Types of Hysterectomies
There are three types of hysterectomies, which one is best for the patient depends on their condition.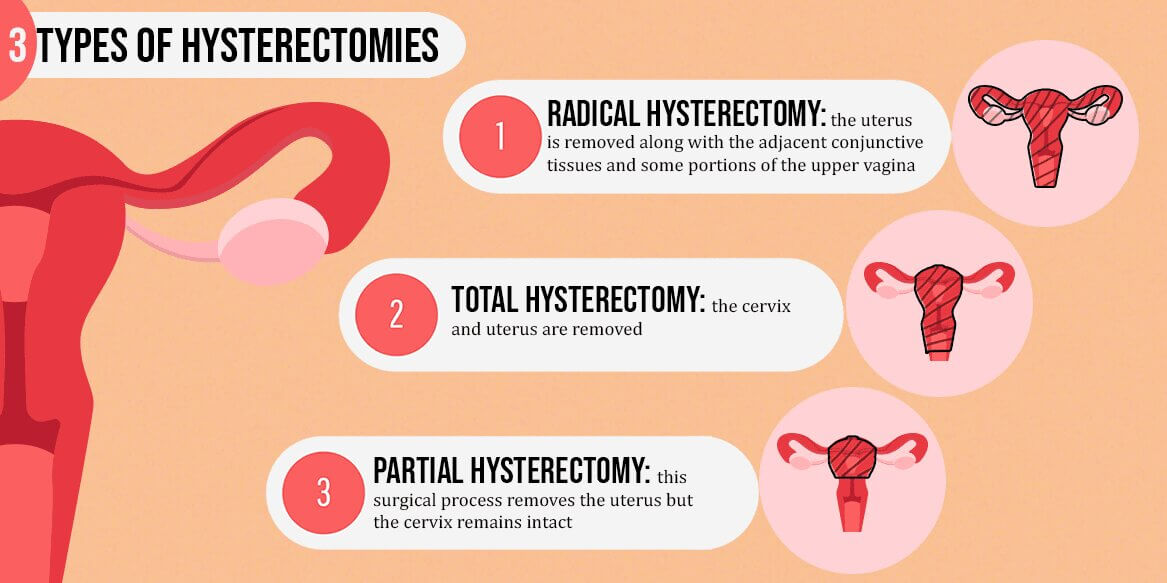 Radical Hysterectomy 
In radical hysterectomies, the uterus is removed along with the adjacent conjunctive tissues and some portions of the upper vagina. The pelvic lymph nodes may also be dissected, however, the ovaries and fallopian tubes remain intact [4].
Radical hysterectomy can be done through multiple surgical approaches. It is conducted through a pelvic incision or small abdominal incisions, and requires acute surgical precision to avoid heavy bleeding. 
The approach taken depends on the diagnosis, age, and medical history of the patient—personal preferences are also taken into account.
Total Hysterectomy 
During a total hysterectomy, the cervix and uterus are removed, ensuring there is no risk of the development of cervical cancer in the future. Sometimes one or both ovaries and the connected fallopian tubes are removed. This is called a bilateral salpingo-oophorectomy.
Partial Hysterectomy 
This surgical process removes the uterus but the cervix remains intact. However, the patient may opt for the removal of the cervix to reduce the risk of cancer progression. The method of surgery depends on the stage of cancer, the patient's age and health, and the size of the uterus.
Types of Hysterectomy Surgeries 
The type of surgical procedure followed will depend on the patient's condition. Your healthcare provider will discuss the options with you for the best outcome.
Abdominal Hysterectomy 
Abdominal surgery is the most common approach used for removing the uterus and the other reproductive organs. 
In the first process, a vertical incision is made between the navel and pubic hairline. Then, a horizontal cut is made just above the pubic hairline. The method is mostly used to remove uterine fibroids.
Abdominal hysterectomy results in more visible scarring and a longer recovery period. The exact surgical process can vary depending on the size and shape of the uterus and possible tumor [5].
Which type of hysterectomy surgery is most commonly used?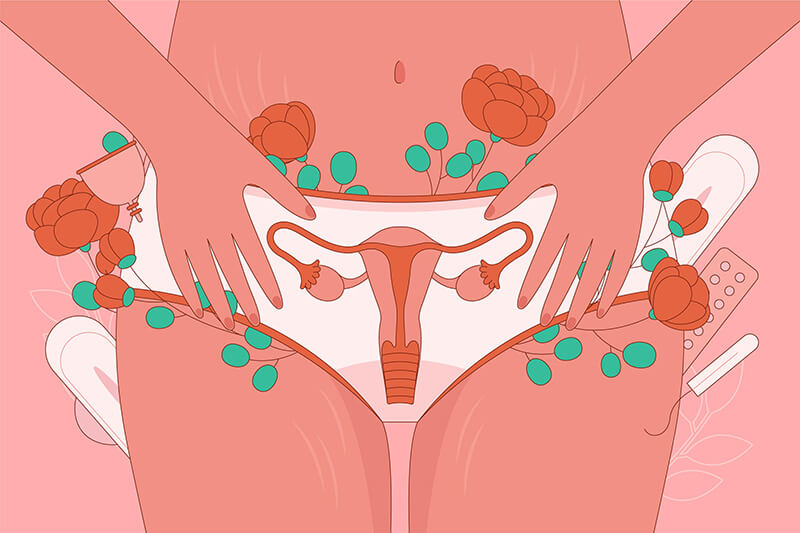 Click on your choice to reveal what surveys say
Show hint
hysterectomy surgery
Abdominal hysterectomy is the most common type of hysterectomy surgery

Laparoscopic Hysterectomy 
This is a minimally invasive surgery for removing the uterus. The cervix is left intact, resulting in a shorter operating time and faster recovery period for the patient. The chances of abdominal wall infections are much lesser when compared to abdominal hysterectomy [6]. The procedure is also termed as robotic hysterectomy. 
During the process, a tiny camera or laparoscope is inserted into the abdomen through a small incision below the navel. Specialized equipment is inserted from two or three smaller incisions made in the abdominal wall, assisting in removing the uterus through the vagina. The surgeon conducts the operation by observing the details on a screen.
Vaginal Hysterectomy 
In this process, the uterus is surgically removed through the vaginal opening. Quite often, the cervix is also removed. 
The advantage is a quicker recovery period and minimum visible scarring, with many patients able to go home on the same day after a few hours in the recovery room. Vaginal hysterectomy also has lesser risks and is a cost-effective process.
Laparoscopically assisted vaginal hysterectomy is an advanced process, however. A laparoscope with a small video camera is inserted from an abdominal incision. This provides additional aid during the surgery. 
This process is recommended for women with an enlarged uterus, endometriosis, or a history of prior pelvic surgery. Such conditions can complicate a standard vaginal hysterectomy. 
Due to the use of extra electronic equipment, the cost of this procedure is higher. 
Side Effects of a Hysterectomy
There can be both long-term and short-term side effects of hysterectomy surgery. The side effects depend on the patient's medical history and overall health conditions. Obesity can increase the risks of bleeding and infections after abdominal hysterectomy [7]. 
The reason behind the surgery is another factor leading to various complications. For example, a patient undergoing a hysterectomy for cancer treatment is more likely to encounter side effects related to the cancer that other patients won't experience.
What Are the Short Term Side Effects of a Hysterectomy?
In the preliminary stage of recovery, patients might notice bloody vaginal discharge, pain or swelling at the incision area, and constipation. In some cases, this can be similar to tubal ligation side effects. Few other short-term side effects may occur within 30 days of the surgery. These include the following: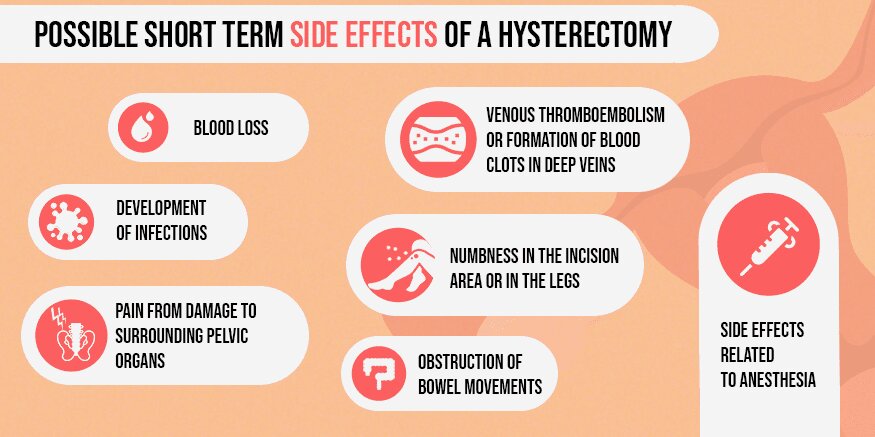 Blood loss leading to the requirement of blood transfusion.

Development of infections near the incision or in the lower abdomen.

Pain from damage to surrounding pelvic organs like the bladder, urethra, and also the blood vessels and nerves.

Venous thromboembolism or formation of blood clots in deep veins [8].

Numbness in the incision area or in the legs.

Side effects related to anesthesia.

Obstruction of bowel movements.
In cases where hysterectomy is accompanied by oophorectomy (removal of the ovaries), short-term side effects can include menopause symptoms such as the following:
Hot flashes

Insomnia

Vaginal dryness

Night sweats
Another aspect of hysterectomy is the emotional side effects. Since the removal of the uterus means no further possibility of getting pregnant, it can have a strong mental impact on some women. The onset of early menopause after a hysterectomy can also bring about a sense of loss.
Some studies have indicated that adverse psychiatric effects can include: 
Psychosis 

Depression 

Agitation 

Anxiety 

Reduced psychosexual functioning [9]. 
However, recent studies have concluded that there is no direct relationship of hysterectomy with anxiety, depression, or other mental health issues [9]. Such symptoms can be related to other issues like the stress of hospitalization, fear of surgical procedures, prolonged illness, and other personality issues.
What Are the Long Term Side Effects of a Hysterectomy?
Hysterectomy can result in an increased risk of pelvic organ prolapse. Since the uterus is absent, other abdominal organs like the bowel or the bladder can push down on the vagina, requiring further surgeries.
There is also the chance of fistula formation between two organs after hysterectomy. Although rare, a fistula is an abnormal tract that can form between the bladder and the vaginal wall, or the ureter and the vaginal wall, causing urinary incontinence.
When the ovaries are removed, there can also be issues related to sex life. Symptoms can include vaginal dryness, pain during sex, and decreased sex drive in some women. These results from the change in estrogen levels.
However, preoperative sexual counseling and advanced preparation for tackling the postoperative sexual side-effects are helpful [10].
Hysterectomy Risks and Potential Complications
When the ovaries remain intact after hysterectomy, the patient can experience menopausal symptoms within 5 years, resulting from the change in normal blood supply to the ovaries. 
With the ovaries removed, the production of the female reproductive hormones will stop, causing the patient to enter surgical menopause immediately.
Women entering early menopause have a higher risk of cardiovascular disease, Alzheimer's disease, and osteoporosis [11]. This is more relevant for younger women and those reaching menopause before the age of 50. Hormone replacement therapy to replace the lost estrogen can be effective in such cases.
Hysterectomy can also lead to the development of abnormal blood fat levels and high blood pressure [12]. The risks of coronary artery disease and congestive heart failure are also shown to be higher. 
Some gynecologists are suggesting women opt for nonsurgical alternative therapies for treating conditions like fibroids, endometriosis, and prolapse before choosing the surgical route.
Hysterectomy Recovery: What To Expect
Hospital stay duration depends on the hysterectomy method and your overall health condition. After an abdominal hysterectomy, the patient may need to spend a few days in the hospital to recover. Medicinal treatment continues in this period to aid in healing.
Generally, the recovery period for vaginal or laparoscopic hysterectomy is between 3 to 4 weeks. Since abdominal hysterectomy is a major surgery, the recovery period is between 6 to 8 weeks, depending on the overall health of the patient. Limit all activities during this period and follow the home care instructions provided by the surgeon.
Patients can also experience fatigue for a period of 6 weeks after the procedure. Vaginal bleeding or discharge can also be experienced for 8 weeks. Taking some precautions can help the muscles and tissues in the area heal. These include the following:
No driving for two weeks

No lifting of heavy objects 

No pushing or pulling of heavier objects

No sexual intercourse.
To aid the process of recovery, the following steps are beneficial.
Light exercise in the form of walking

Proper rest and sleep

Keeping the incision area clean and free from infections

Taking all prescribed medicines in the right manner

Avoid all forms of tight clothing

Avoid activities like swimming until the scar tissue has healed completely.
Most women should be able to return to their work routine within 5 to 6 weeks. Still, strenuous activities like heavy exercise or contact sports should not be resumed without the doctor's permission. 
It is important to maintain a healthy diet and avoid smoking to help the body recover. Suffering from constipation is common after the surgery. A high-fiber diet and proper hydration should help with bowel movements.
Will I Experience Body Changes After Uterus Removal?
The main change will be the stop in menstrual periods while removing the ovaries can trigger premature menopause symptoms. Once fully recovered, you will possibly feel healthier after a hysterectomy as the primary symptoms will be gone.
There is no evidence to suggest that hysterectomy affects sex drive or increases weight after surgery. Weight gain is usually due to the lack of activity after the surgery. Some women have also found sex after hysterectomy to be more enjoyable.
However, every woman is different and some may face problems related to sexual functioning in the long run. These can include difficulty to reach orgasm, loss of vaginal sensation, and lack of vaginal lubrication. In such cases, the doctor can help with a minimally invasive treatment plan.
What To Ask Your Doctor Before Hysterectomy
It is important to ask your doctor the right questions once a hysterectomy is suggested so you can learn about the exact reasons behind its need and the changes you can expect afterward. You can also discuss nonsurgical treatments as alternatives.
Some common questions are listed below. As all patients are different, you may find some of these not relevant to you.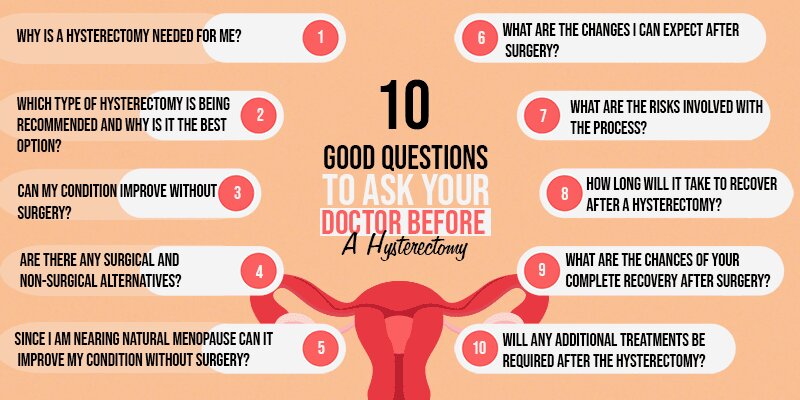 Why is a hysterectomy needed for me?

Which type of hysterectomy is being recommended and why is it the best option?

Can my condition improve without surgery?

Are there any surgical and non-surgical alternatives?

Since I am nearing natural menopause can it improve my condition without surgery?

What are the changes I can expect after surgery?

What are the risks involved with the process?

How long will it take to recover after a hysterectomy?

What are the chances of your complete recovery after surgery?

Will any additional treatments be required after the hysterectomy?
FAQ
A few FAQs regarding hysterectomy are discussed below.
What Effect Does a Hysterectomy Have On a Woman?
The negative effects can be both physical and mental. However, full recovery from these effects is possible. The primary positive effect is recovery from prevailing conditions like cancer or large fibroids.
What Happens to Your Body After a Hysterectomy?
Since the process removes the uterus, you will stop menstruating and will be unable to carry a pregnancy. You may also experience early menopause or similar symptoms. The removal of the ovaries during the process brings about immediate menopause.
What Are the Negative Side Effects of Hysterectomy?
There are short-term effects, such as blood loss and infection, and long-term negative effects, including pelvic organ prolapse and fistula formation.
Does Partial Hysterectomy Cause Early Menopause?
If the ovaries remain after the surgery, they will continue to produce hormones. However, the change in hormonal flow can lead to early menopause within a few years.
What Are the Side Effects of a Hysterectomy At 40?
As we have already mentioned, some research has suggested early menopause brought about by hysterectomy can lead to cardiovascular problems and osteoporosis.
Conclusion
With rapid advancements in medical technology, hysterectomy comes with lower complication rates and considerably lower expenses. Even so, it is a serious and permanent process, so make sure that it is a medical necessity for you. 
Learn how the procedure is going to affect the various aspects of your life. That way you will be able to handle the changes easily.
References
Stewart, Elizabeth A, et al. "Reassessing Hysterectomy."

Minnesota Medicine

, U.S. National Library of Medicine, Mar. 2012, www.ncbi.nlm.nih.gov/pmc/articles/PMC3804006/. 

Shekhar, Chander, et al. "Prevalence, Sociodemographic Determinants and Self-Reported Reasons for Hysterectomy in India."

Reproductive Health

, BioMed Central, 2 Aug. 2019, reproductive-health-journal.biomedcentral.com/articles/10.1186/s12978-019-0780-z. 

"The Experts Weigh In: Is a Hysterectomy an Effective Endometriosis Treatment?"

Endometriosis : Causes – Symptoms – Diagnosis – and Treatment

, 11 Sept. 2018, www.endofound.org/the-experts-weigh-in-is-a-hysterectomy-an-effective-endometriosis-treatment. 

Marin, F, et al. "Types of Radical Hysterectomies : From Thoma Ionescu and Wertheim to Present Day."

Journal of Medicine and Life

, Carol Davila University Press, 15 June 2014, www.ncbi.nlm.nih.gov/pmc/articles/PMC4197497/. 

Konishi, Ikuo. "Basic Principle and Step-by-Step Procedure of Abdominal Hysterectomy: Part 2."

Surgery Journal (New York, N.Y.)

, Thieme Medical Publishers, 26 Dec. 2018, www.ncbi.nlm.nih.gov/pmc/articles/PMC6554018/. 

Einarsson, Jon I, and Yoko Suzuki. "Total Laparoscopic Hysterectomy: 10 Steps toward a Successful Procedure."

Reviews in Obstetrics & Gynecology

, MedReviews, LLC, 2009, www.ncbi.nlm.nih.gov/pmc/articles/PMC2673000/. 

Osler, Merete, et al. "Body Mass and Risk of Complications after Hysterectomy on Benign Indications."

OUP Academic

, Oxford University Press, 5 Apr. 2011, academic.oup.com/humrep/article/26/6/1512/2914011. 

Swenson, Carolyn W, et al. "Risk Factors for Venous Thromboembolism after Hysterectomy."

Obstetrics and Gynecology

, U.S. National Library of Medicine, May 2015, www.ncbi.nlm.nih.gov/pmc/articles/PMC4418022/. 

Chaudhary, S, and T K Bhattacharyya. "PSYCHIATRIC EFFECTS OF HYSTERECTOMY."

Medical Journal, Armed Forces India

, Elsevier, Jan. 1995, www.ncbi.nlm.nih.gov/pmc/articles/PMC5529799/. 

Bradford, Andrea, and Cindy Meston. "Sexual Outcomes and Satisfaction with Hysterectomy: Influence of Patient Education."

The Journal of Sexual Medicine

, U.S. National Library of Medicine, Jan. 2007, www.ncbi.nlm.nih.gov/pmc/articles/PMC2857776/. 

"Early Menopause Predictor of Heart Disease."

ScienceDaily

, ScienceDaily, 4 Oct. 2019, www.sciencedaily.com/releases/2019/10/191004105615.htm. 

"Hysterectomy Alone Associated with Increased Long-Term Health Risks."

ScienceDaily

, ScienceDaily, 3 Jan. 2018, www.sciencedaily.com/releases/2018/01/180103101142.htm.