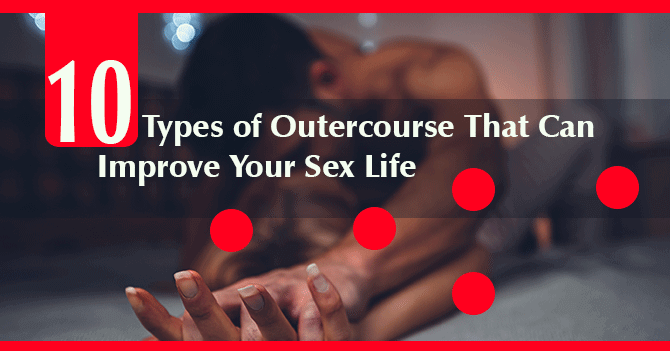 Any time the word 'sex' comes to mind, many people automatically assume this means penetration. Outercourse (non-penetrative sex) is a credible alternative to penetrative sex that you can try out today. Not only is outercourse easy to learn, but it is also as enjoyable as sexual intercourse.
Let's look at various forms of outercourse that you can practice, its benefits and risks below.
What Is Outercourse?
Outercourse is any sexual activity that does not involve intercourse [1]. It can mean different things to different people. While for some outercourse is anything that isn't penis-in-vagina penetration, for others it means no penetration of any kind. Penetration can also mean using fingers or sex toys.
Many people choose outercourse as an alternative way to get intimate with their partners. It's often a safe method for preventing pregnancies and the spread of sexually transmitted diseases (STDs).
There is no standard definition for outercourse. Only you and your partner can draw those boundaries, and only you can define what it means to you.
Outercourse vs Abstinence: Are They the Same Thing?
Outercourse isn't the same thing as abstinence, although in both cases you avoid any sexual act that involves penetration [1].
In simple terms, abstinence refers to an individual's decision to avoid all forms of sexual acts. Abstinence may allow some outercourse depending on the individual.
There isn't a cut-and-dry definition for abstinence as well. You have the freedom to decide what it means for you.
How To Have Outercourse: 10 Outercourse Ideas
Let's look at some ways you can explore and enjoy outercourse with your partner.
Talk About Fantasies
Talking about your fantasies with your partner can exponentially increase sexual satisfaction and spice up your sex life [2][3]. A little dirty talk is an excellent way to practice outercourse and build intimacy.
Stick to Just Kissing
Kissing is another simple form of outercourse. Don't write off its potency. It's an amazing way to build intimacy and has many health benefits [2][4]. You can discover what turns both you and your partner on by kissing other parts of their bodies besides their lips. 
French and deep kissing are some exciting non-penetrative sex ideas you can add to your sexual repertoire.
Massage
A sensual massage can be quite satisfying for couples who want to explore each other's bodies [2][5]. You can set the scene using mood lighting and rose petals. Scented candles also help set the mood for a massage. 
You can tell each other which body parts you love getting rubbed and explore different sensations at the same time.
Use Sex Toys
To some couples, sex toys are a valid outercourse option. With virtually hundreds of different types of toys in the market, you and your partner can enhance your sex life by using them for genital stimulation [2].
A classic sex toy example is the vibrator. You can use it to stimulate your partner's clitoris or head of the penis, helping your partner have an orgasm and reach deep sexual satisfaction.
Dry Humping
Dry humping involves sexual activity that can stimulate a person's sexual organs without penetration. A good example of this sexual activity is intergluteal sex [2].  
As a couple, you can grind each other's bodies for pleasure. Also, you can test out different sex positions and role play. Besides that, you can grind to the rhythm of your favorite song and add a bit of dirty talk to spice it up.
Mutual Masturbation
Masturbating together can also produce an orgasm for both of you [2]. You can use this opportunity to show your partner where you like to be touched and what feels good. Besides that, you can add kisses and talk dirty to each other for added pleasure.
Manual Stimulation
You can take turns in pleasing each other to orgasm using clitoral stimulation, fingering or hand jobs. Manual stimulation can be deeply pleasurable to people who enjoy it [2].
To keep things spicy, you can use different lubes on your partner to see what sensations they enjoy the most.
Oral Sex
Giving your lover a good blowjob or cunnilingus can be extremely pleasurable [2]. You can explore their genitals with your mouth and tongue, using different strokes and motions to see what they enjoy the most. You can also combine oral sex with kissing and nipple stimulation for even more variety.
Anal Sex
This sexual act is deeply pleasurable, and yes, it involves some penetration [2]. People of all genders can find anal penetration to be pleasurable, including gay and heterosexual couples. Anal play creates an exciting opportunity especially for couples that want to try out new penetrative sex ideas and toys.
Anal play can go hand in hand with other activities such as kissing, oral sex and mutual stimulation to produce maximum pleasure.
Experiment with BDSM or Other Fetishes
You can also experiment and enjoy kinky activities that involve spanking, bondage, humiliation play and other forms of BDSM activities [2]. Most of these activities do not involve penetration. Having a fetish for a person's armpit is perfectly fine! 
You can discuss and plan kinky activities with your partner, including a safe word for when any of you need to stop. You can also combine BDSM with a sex toy, talking about fantasies and enjoying mutual masturbation.
Outercourse Benefits: Why Do It?
Is outercourse worth the trouble when you could just have 'real sex' instead?
Well, yes. In some circumstances, outercourse can be a valid alternative for sexual intercourse. Anyone can practice outercourse, regardless of your sexual orientation or gender [3]. Besides that, you can also practice outercourse even if you've never had sex before.
Here are some reasons couples can consider for outercourse: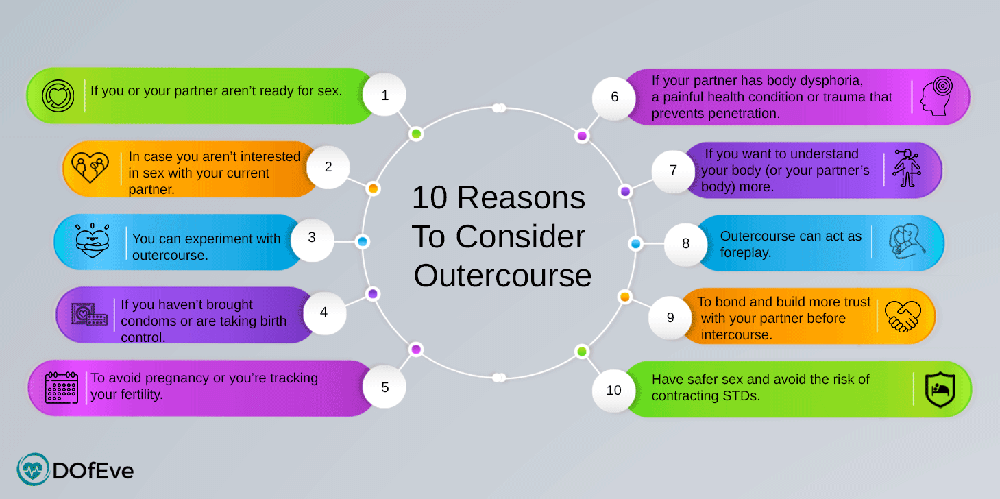 If you or your partner aren't ready for sex.

Outercourse also works in case you aren't interested in sex with your current partner.

If you want to learn new things and mix it up a little, you can experiment with outercourse.

If you haven't brought condoms or are taking birth control.

If you want to avoid pregnancy or you're tracking your fertility.

If your partner has body dysphoria, a painful health condition or trauma that prevents penetration.

If you want to understand your body (or your partner's body) more.

Outercourse can act as foreplay. You can use sex without penetration to prepare for sexual intercourse.

If you want to bond and build more trust with your partner before intercourse.

If you want to have safer sex and avoid the risk of contracting STDs.
Outercourse Risks
Many types of outercourse are safe. However, some of them bear health risks to you and your partner. Here are some examples:
Anal and oral sex involves contact with your partner's genitals and the exchange of bodily fluids. Outercourse of this kind carries the same risks as vaginal sex. You can contract many of the same STDs as sexual intercourse if you don't use protection [3][7]. 
Use barrier methods like condoms, dental dams or gloves to prevent contact with genital fluids [9]. Here is more information on how to get birth control and how to use non hormonal birth control.
Even where you don't swap fluids, the risk of STD transmission remains. Skin-to-skin contact can still spread HPV and herpes.
Although remote, there is some risk of pregnancy. Sometimes during mutual masturbation and sexual stimulation, semen (cum) comes into contact with the vagina. To prevent pregnancy, you can use other forms of birth control besides condoms [8].
If you want to enjoy having outercourse with your partner without having to worry about STDs, get tested regularly. Also, avoid genital contact and contact with each other's sexual fluids where possible.
FAQs
Here are answers to some questions you may still have about outercourse.
Can You Get Pregnant from Outercourse?
Outercourse is nearly 100% effective at preventing pregnancy. Non-penetrative outercourse prevents pregnancy by avoiding vaginal sex. Kissing, dry humping, oral and anal sex can't cause pregnancy.
There remains a remote chance pregnancy can happen but under accidental circumstances. Although you may not have had vaginal sex, if semen accidentally comes into contact with the vulva, sperm can make its way up your vagina and fertilize an egg [8].
This can only happen if:
Semen accidentally drips or wipes into the vaginal opening.

A sex toy or fingers with wet semen come into contact with the vagina during sexual acts like mutual stimulation or sex toy play.

Semen drips into the vulva from the anus after anal sex.
To eliminate this risk, avoid all contact with semen and pre-ejaculate. Where possible, use spermicides after such an accident occurs.  You can also learn how to do the pull out method to avoid spilling semen.
Can You Get STDs from Outercourse?
While outercourse has the lowest risk of transmission, you can still get STDs from it. Some types of outercourse that require any form of penetration carry the same risk of STDs as vaginal sex, anal and oral sex without using barriers [8]
To reduce these risks: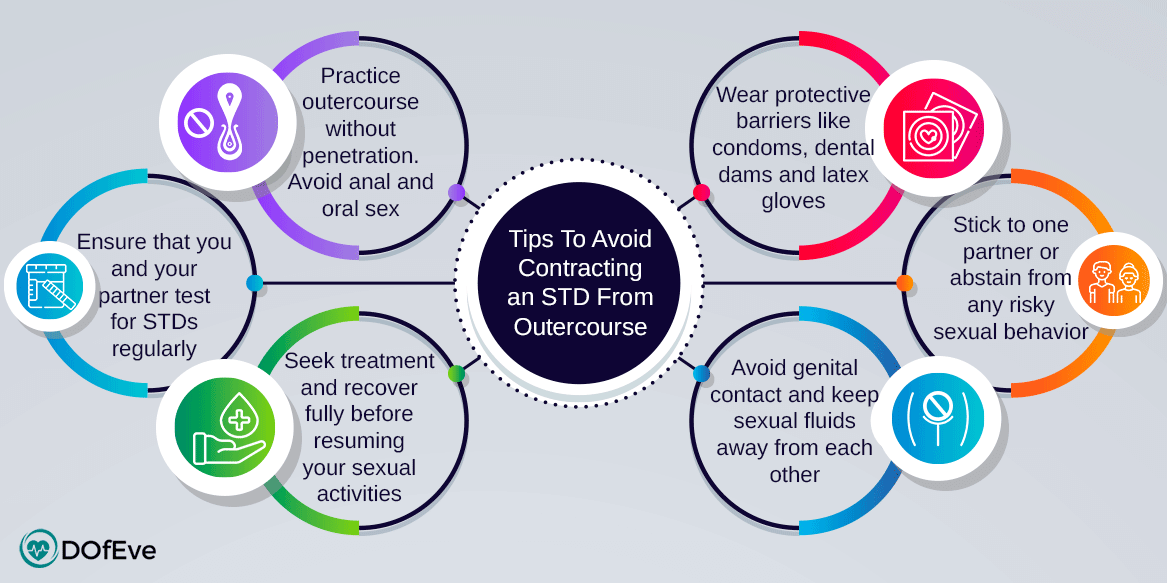 Practice outercourse without penetration. Avoid anal and oral sex.

Ensure that you and your partner test for STDs regularly.

Seek treatment and recover fully before resuming your sexual activities.

Wear protective barriers like condoms, dental dams and latex gloves when performing oral and anal sex. Here is more information about the effectiveness of condoms in birth control.

Stick to one partner or abstain from any risky sexual behavior.

Where possible, avoid genital contact and keep sexual fluids away from each other.
Non-Penetrative Sex and HIV
Non-penetrative sex is safe sex, especially where you and your partner don't spill sexual fluids. Kissing, massage, fantasies, kinky fetishes and other options that do not involve penetration are unlikely to spread HIV from one person to another [6]. 
However, where anal and oral sex are involved, use a condom. Keep sexual fluids away from each other and your risk of contracting HIV is minimized.
Can I Have Non-Penetrative Sex After a Miscarriage?
Yes, you can have non-penetrative sex after miscarriage.
If you and your partner want to get intimate soon after a miscarriage, you can begin with outercourse. Doctors recommend you wait at least two weeks after your bleeding has stopped before any penetration, including tampon use [8].
Outercourse provides some sensual options to try out with your partner before you can go back to having normal sex.
Conclusion
Outercourse is a thrilling way to change your sex life. However, it's essential to remember that it still bears some risks of STDs, HIV and pregnancy. Ensure to use protective barriers and birth control methods to keep yourself safe. 
After a miscarriage, take your time to get back into sexual intimacy with your partner. Give your body and mind time to heal from the loss before going back to your normal sex life. Until then, enjoy some stimulating outercourse to help you warm up. 
References
"University Health Service."

Abstinence | University Health Service

, uhs.umich.edu/contraception-abstinence.

Blunt-Vinti, Heather, et al. "Show or Tell? Does Verbal and/or Nonverbal Sexual Communication Matter for Sexual Satisfaction?"

Journal of Sex & Marital Therapy

, vol. 45, no. 3, 2019, pp. 206–217., doi:10.1080/0092623x.2018.1501446.

Bakaroudis, Maria. "Outercourse: Exploring Nonpenetrative Forms of Pleasurable Safer Sex."

American Journal of Sexuality Education

, vol. 9, no. 3, 2014, pp. 381–397., doi:10.1080/15546128.2014.944736.

Wlodarski, Rafael, and Robin I. Dunbar. "Examining the Possible Functions of Kissing in Romantic Relationships."

Archives of Sexual Behavior

, vol. 42, no. 8, 2013, pp. 1415–1423., doi:10.1007/s10508-013-0190-1.

Barreto DM, Batista MVA. Swedish Massage: A Systematic Review of its Physical and Psychological Benefits. Advances in Mind-body Medicine. 2017 Spring;31(2):16-20.

Patel, Pragna, et al. "Estimating per-Act HIV Transmission Risk."

AIDS

, vol. 28, no. 10, 2014, pp. 1509–1519., doi:10.1097/qad.0000000000000298.

Cobb, J C. "Outercourse as a Safe and Sensible Alternative to Contraceptives."

American Journal of Public Health

, U.S. National Library of Medicine, Aug. 1997, www.ncbi.nlm.nih.gov/pmc/articles/PMC1381109/.

"How Soon Can I Have Sex after a Miscarriage?"

Bakersfield Pregnancy Center

, 30 Apr. 2020, wehelpyou.org/how-soon-can-i-have-sex-after-a-miscarriage/.

"Condom Fact Sheet In Brief."

Centers for Disease Control and Prevention

, Centers for Disease Control and Prevention, 4 June 2021, www.cdc.gov/condomeffectiveness/brief.html.