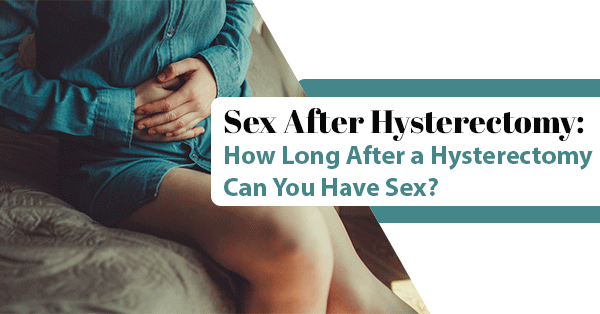 Our reproductive organs and sex lives make up an essential part of self-image, affecting the way that we connect with ourselves. The removal of a sexual organ is a huge transition both physically and emotionally and could affect your identity. On the other hand, there's more to life than sexuality alone, and it could be that your hysterectomy just saved yours. 
But what's next? What can I expect from my body now? How will my sex life be affected? In this article, we convert science into no-nonsense advice to answer a few common questions about sex after hysterectomy.
How Long After a Hysterectomy Can You Have Sex?
All types of hysterectomy are major surgery, and it is not recommended to have sex or insert anything into the vagina for at least six weeks after the operation. As with recovery from any operation, you should be good to yourself and go for regular follow-up appointments with your doctor.
Different levels of hysterectomy produce different hysterectomy side effects in both the short and long term, especially sex drive [1].
Total Hysterectomy 
Total hysterectomy is the most common type of surgical removal. It removes the whole uterus, including the cervix. It could also involve having the ovaries removed and fallopian tubes, but usually, they remain in place [2].
Radical Hysterectomy 
Radical hysterectomy means removing the uterus, the top part of the vagina, and the cervix and tissue surrounding it. It could also involve removing the ovaries and fallopian tubes. This type is most likely to affect female orgasm due to the shortening of the vagina [3].
When the ovaries are removed, there can be an onset of menopausal symptoms due to the body no longer producing the hormones estrogen and progesterone.
Partial Hysterectomy 
In a partial hysterectomy, or subtotal hysterectomy, the top part of the uterus is removed, and the cervix remains intact. This type is the least likely to have an adverse effect on a woman's sex life, as the cervix is often synonymous with sexual pleasure during penetration.
Post Hysterectomy Sex: What to Expect
During climax, female orgasms involve noticeable uterine contractions. Having no uterus means that sex and orgasms feel different to before. However, there is a good body of evidence suggesting that many women actually enjoy their sex lives more after hysterectomy [4]. 
Pre-surgery symptoms in women with reproductive health conditions can involve a lot of pain and discomfort. Following the operation, many women feel relief from this, meaning that their sexual activity increases. They may therefore experience a higher sex drive and more intense orgasms.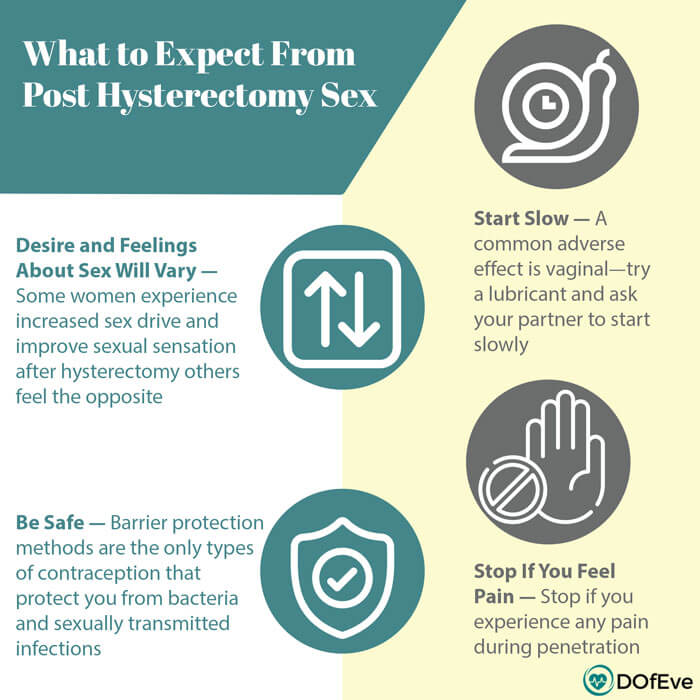 Desire and Feelings About Sex Will Vary
While some women experience increased sex drive and improve sexual sensation after hysterectomy, post-op feelings towards sex vary greatly. Some women have less interest in sex because they feel less desirable or experience changes in their hormone levels that negatively impacts their sex lives. 
Coming to terms with the changes may also cause stress or relationship problems that affect sex life.
Overall, though, studies show that up to 75% of women have a positive post-op experience, reporting that their sexual functioning improved after hysterectomy [5].
Be Safe
Take good care of yourself, especially if you are recovering from a hysterectomy. There is no better time for safe sex. Barrier protection methods are the only types of contraception that protect you from bacteria and sexually transmitted infections. See more on the effectiveness of condoms and for a guide on how to use female condoms.
Start Slow 
A common adverse effect of hysterectomy that causes reduced sexual sensation is vaginal dryness. Finding new ways of sexual function and satisfaction is important in this case. 
To increase arousal and increase clitoral stimulation, it is a good idea to source a good water or silicone-based sexual lubricant for your dry vagina and ask your partner to start slowly. Indulge in more foreplay and oral sex to get you started and experiment with new toys.
As recovery progresses, many women find that their natural lubrication returns; however, to begin with, more foreplay and extra lubrication can ease penetration and help to avoid pain and sexual problems.
Stop If You Feel Pain 
Should you experience any pain during penetration, ensure you alert your partner and stop having sex straight away. Similarly, if you notice bleeding, stop having sex and be sure to update your physician.
Does a Hysterectomy Affect Sexuality?
Hysterectomy can cause changes in the way women feel about their sexuality, which is the most common reason for sexual problems. 
According to psychological studies, premenopausal women found that becoming infertile made them feel less desirable or sexy. When women are exposed to attitudes suggesting that their ability to bear children is what makes them feminine or sexy, their body image may be affected negatively, leading to a change in sexuality post-hysterectomy [6].
This is a normal emotional side effect and can be worked on through counseling with a psychosexual therapist if it is affecting your sex life.
Questions to Ask Your Doctor About Sex After a Hysterectomy
Ensure you are fully kept in the picture by your medical provider about what to expect. Below are a few points to get you thinking: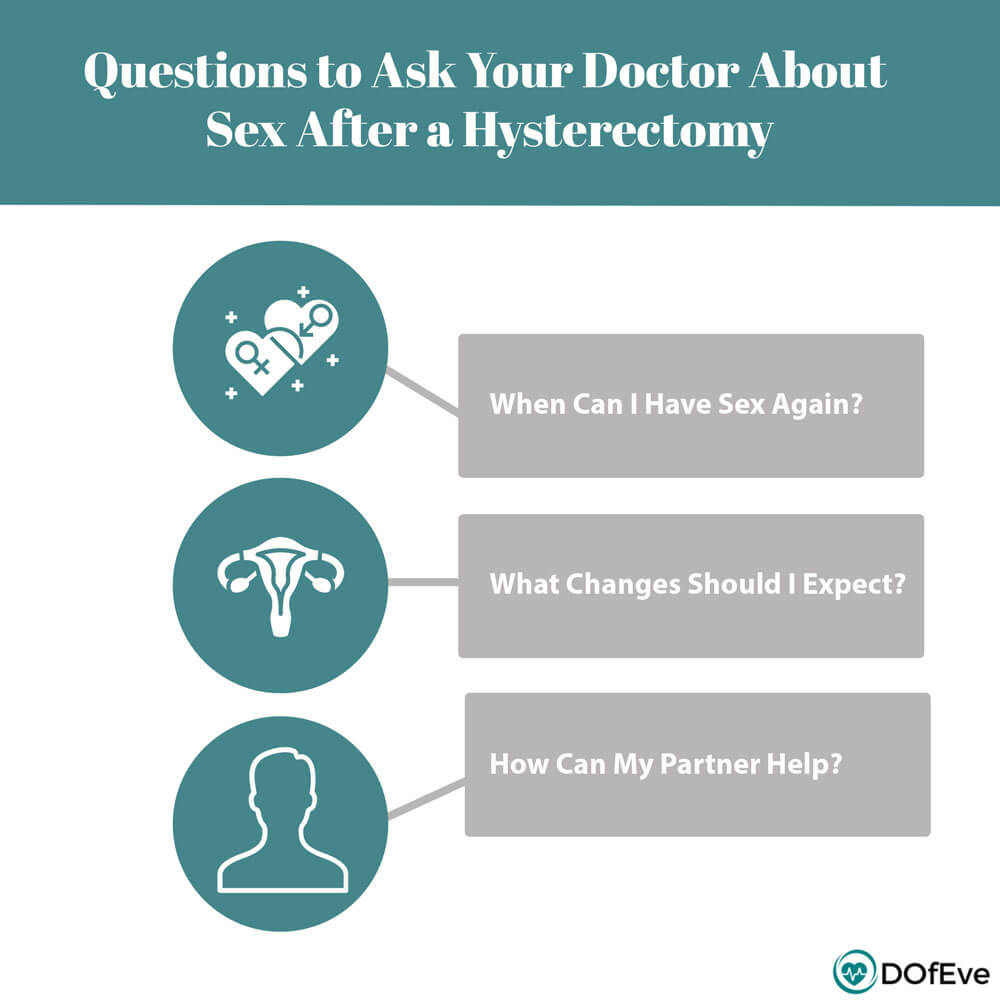 When Can I Have Sex Again?
It is not recommended to have sex until at least six weeks after a hysterectomy. Follow the guidelines recommended by your doctor or surgeon as different surgical methods produce different healing times.
Depending on how you feel, it might take longer than the recommended healing time to be comfortable with having penetrative sex again. Be kind to yourself, and allow more recovery time if needed.
What Changes Should I Expect?
The most common side effects from a hysterectomy in the short term are pain, heavy bleeding, and vaginal discharge. Other after-effects include menopause-like symptoms such as hot flushes. As recovery progresses, these symptoms should go away. 
Your periods will stop, which for different women induces different emotions. Many women feel that this is a blessing, while for others it may seem like a loss of womanhood. Post-hysterectomy, it is no longer possible to get pregnant.
Other long-term side effects can include urinary incontinence or prolapse, but the prevalence of this is low, and it depends on other factors [7]. Your doctor may recommend pelvic floor exercises to reduce these negative long-term effects. There are also available hormone replacement therapies for treating menopausal symptoms.
How Can My Partner Help?
You may need a lot of emotional support and careful intimacy following a hysterectomy to get your confidence back with your sexual relations. It is also a time, if you experience changes in your sexual sensation, for you and your partner to try new ways for you to reach orgasm. This could require care and patience from your partner.
FAQ
Hysterectomy is a sensitive topic that may create a whirl of internal questioning. Here are a few common quandaries for those who are post-hysterectomy.
Can You Have Sex Without a Uterus?
Yes. When you are healed from your operation, there is no reason not to have sex without a uterus.
Can You Have Oral Sex After a Hysterectomy?
Yes. In fact, if you are experiencing differences in arousal following hysterectomy, having more oral sex with your partner would be a great way to increase sexual satisfaction.
Is Sex Different After a Hysterectomy?
Your feelings towards penetrative sex might change. If they do, it would be a good idea to use the opportunity to experiment with new positions, extra foreplay, and new toys. You can read about outercourse for some fresh ideas!
Is Sex After a Partial Hysterectomy Different from After Full Hysterectomy?
There is likely to be differences in your sexual experience depending on the type of hysterectomy you have undergone. A total hysterectomy means the removal of the cervix. This may affect female orgasm because the cervix is known for sexual satisfaction from pressure during penetration.
Total hysterectomy can also mean getting ovaries removed, which produces hormones. When these hormones are no longer produced in the body, there can be a decrease in women's sex drive.
Partial hysterectomy does not include removal of the ovaries or the cervix. Therefore, it is the type that is least likely to affect your sexual experiences.
Is Sex Better After a Hysterectomy?
It can be the case that your sexual function improves after hysterectomy. If you have experienced pain and discomfort from an illness before the surgery, you may be more comfortable having sex when you have healed from the operation. 
Depending on your personal circumstances, you may also experience a loss of your sexual identity or hormonal changes post-hysterectomy leading to decreased sex drive. 
Remember to communicate with your partner your feelings about this. Just talking about it could make you feel better. Medical professionals should also be kept in the picture, as it is possible to get hormone treatments that can offset the changes.
Is Vaginal Dryness Normal After a Hysterectomy?
Yes, vaginal dryness is a common short-term side effect post-hysterectomy that should decrease with time.
Conclusion 
Hysterectomy is a major surgery that, like with any major surgery, has some serious physical side effects for women during the aftermath. Remember to be kind to yourself and take it slow, sexually or otherwise, and this is a highly sensitive time for you.
Your fertility does not have to define you, but you may still have some creeping conflicting feelings to sex after a hysterectomy. If this is affecting your day-to-day life, your relationships, and your sex life, talk to a mental health professional such as a sexologist and your partner about sex. 
References
[1] Kozłowski M;Gargulińska P;Ustianowski Ł;Lewandowska R;Kwiatkowski S;Cymbaluk-Płoska A; "Sexuality of Women after Gynecological Surgeries." Healthcare (Basel, Switzerland), U.S. National Library of Medicine, pubmed.ncbi.nlm.nih.gov/33050505/. 
[2] "Hysterectomy (Surgical Removal of the Womb)." InformedHealth.org [Internet]., U.S. National Library of Medicine, 23 Aug. 2018, www.ncbi.nlm.nih.gov/books/NBK525761/. 
[3] Danesh, Mahmonier, et al. "The Effect of Hysterectomy on Women's Sexual Function: a Narrative Review." Medical Archives (Sarajevo, Bosnia and Herzegovina), AVICENA, D.o.o., Sarajevo, Dec. 2015, www.ncbi.nlm.nih.gov/pmc/articles/PMC4720466/. 
[4]Bradford, A., & Meston, C. (2007). Sexual outcomes and satisfaction with hysterectomy: influence of patient education. The journal of sexual medicine, 4(1), 106–114. https://doi.org/10.1111/j.1743-6109.2006.00384.x
[5]Rhodes JC, Kjerulff KH, Langenberg PW, Guzinski GM. Hysterectomy and Sexual Functioning. JAMA. 1999;282(20):1934–1941. doi:10.1001/jama.282.20.1934
[6]Iżycki, D., Woźniak, K., & Iżycka, N. (2016). Consequences of gynecological cancer in patients and their partners from the sexual and psychological perspective. Przeglad menopauzalny = Menopause review, 15(2), 112–116. https://doi.org/10.5114/pm.2016.61194
[7] I;, Bohlin KS;Ankardal M;Lindkvist H;Milsom. "Factors Influencing the Incidence and Remission of Urinary Incontinence after Hysterectomy." American Journal of Obstetrics and Gynecology, U.S. National Library of Medicine, pubmed.ncbi.nlm.nih.gov/27593942/.